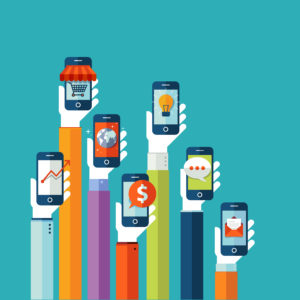 A mobile website design doesn't just look slick – it allows your site visitors to interact with your company no matter where they are, which gives you more opportunities to generate leads. A mobile website design is essential to capturing the maximum number of visitors and sales conversions for your website. Here are the top 8 reasons why you need to invest in a mobile website design:
1) Everyone is using mobile phones. 
80% of all Internet users today have a smartphone – and a number of people are ditching traditional home Internet altogether to rely only on their mobile device. If your site isn't built for mobile, you could be missing a massive portion of your market.
2) Bad mobile experience = lost revenue.
People are using their mobile devices more than ever. According to a Google survey, 52% of smartphone users said that a bad mobile experience would make them less likely to engage with a company. 74% of visitors will return to websites that have a mobile-friendly design.
3) Mobile-friendly sites lead to higher conversion rates.
Even if the sale itself doesn't take place on a mobile device, that doesn't mean that isn't where the sales process began. 40% of users who research on a mobile device go on to complete their purchase on a desktop computer.
4) Google results improve.
Google now favors websites that have mobile responsive designs. You could be hurting your search engine ranking by not having the right design.
5) Social media support works better on mobile.
A growing majority of smartphone owners use their phone to follow along with social media. This means much of the Facebook advertising and social media advertising that you do needs to convert on mobile devices. If you're using social media to build your brand, your website needs to be built for mobile traffic.
6) Mobile sites work with local search.
Mobile sites can have geo-tagging to push notifications to people within your local marketplace as well as improve local search engine results.
7) It is still new and trending.
Mobile advertising is an emerging market that is showing positive results. Mobile web design is relatively new, but it's here to stay.
8) Customers expect it.
Customers will often look up products on their mobile device immediately – if they can't find your website in mobile search engine results, they aren't likely to visit your site at all.
Mobile-friendly means user friendly and search engine optimized
Mobile-friendly design is no longer optional. If your website is falling behind the curve, Develop & Design can help bring you up to speed. Get in touch with one of our web strategists today and we'll help figure out a solution to design the mobile website your clients deserve.