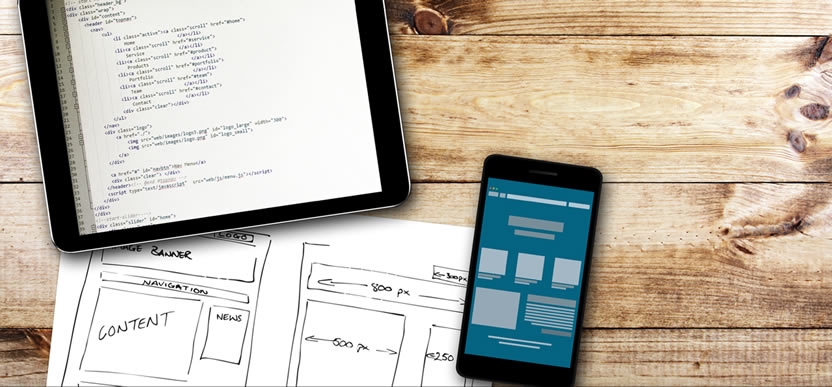 How you rank on search engines is important. Past, present and future clients should not have to dig through 5 or 6 pages of Google search results to find your company. Showing up on the first page can make a huge difference in your site traffic, online presence, and even in potential transactions. This article will overview basic design and content theories related to search engine optimization (SEO), with a goal of improving your search engine placement. Consider these five areas that you can focus on to rank your business at the top of its industry.
Content quality
Producing valuable, top-quality content on your site can result in many positive SEO improvements: your site will be useful to readers, generate repeat visitors and other sites will want to aligning to you through links. Key to this is keeping your web content fresh. Simply put, search engines love new pages! Try to add new articles, photos and videos regularly; frequently updated sites are more often indexed by search engines. Without fresh content and updates, it could be months before search engines find you, and if the search engines can't find you, nor will anyone else. Continually producing content that people actually engage with will result in your web traffic being quickly recognized by Google and Bing. Search engines strive to provide quick, quality results to users, so if you're already making headlines you'll be rewarded in the rankings.
What kinds of content resonate best? Aim for web pages with at least 300 words, but 500 or more will rank you better. Even though some content is better than none at all, pages with fewer than 100 words won't gain much traction. Furthermore, having two or more pages on your site with identical content (or close to it) isn't valuable for users, and search engines will filter this from their results.
Keywords
Many of your website visitors might not start their web search looking specifically for your site. They're likely looking for information on a specific subject, which they'll enter using a few words into the search engine. These are known as keywords, and when search engines crawl your site, they pick up on commonly used words as a way to rank your site pages. So, when crafting new content for your site, consider the phrases associated with your business, and the keywords that people are already using to find you. These can be obtained with free website analytics tools. (Couple links?)
After identifying your priority keywords, integrate them into your web content. Then, when a user searches for a phrase that includes these words, the search engine will look for pages that include prominent mentions—like yours. Where should you include these keywords to ensure your content is seen? There are lots of options, so chose a few places from the following: headings and section titles, link text, page titles and descriptions, image file names, throughout the page's written content and in the URL.  With regards to written content, make sure the keywords fit naturally within your text; avoid "stuffing" or overusing words as this will work against your search rankings.
Links
Backlinks, or links that redirect from other sites to your own, can greatly improve your SEO. A few backlinks can assist the search engine in finding your site, but numerous links will indicate that your site is an important resource. The more incoming links you can obtain from pre-existing high-ranking organizations, the higher you'll be listed in search results. Consider your stakeholders, professional organizations and business directories; is there an opportunity to bounce links off each other?
While backlinks from other websites are integral to your SEO strategy, they're not the only type of link that matters. Links on your own website make a difference, too. If you have an underperforming page on your website, drive more links to it from other sections of your site to gain more traction.
If you already have existing social media accounts for your brand, add your URL to your Facebook, Twitter and LinkedIn accounts to enhance your link trail. Then, when you add new content or pages to your site, be sure to Tweet them and share them with your social networks. "Search crawlers" visit these sites, too, so this can further increase your ability to obtain a higher search ranking.
Web design
The detailed structure of a website will also affect your search engine rankings. Ensuring a responsive design, one that is optimized for smartphones, tablets and PCs—as well as various web browsers—is rewarded by search engines. A responsive website has the same URL for both the mobile and the main site, which avoids the confusion of separate URLs depending on a user's device. This can greatly improve and simplify your external backlinks, as discussed above.
With regards to your site's coding, ensure it's as clean as possible for the spiders to crawl through. If you're not familiar with coding or HTML, consult web developer.
Page layout
The actual content on your site can also be optimized in a way that will also enhance your SEO. While images and graphics can make your page pop, try to keep the file sizes less than 100 KB with a resolution of 72 dpi. Large images can make your site load slowly, which won't resonate well with users. In each image's alt-text, include your identified keywords.
Ensure your content is logically organized for the user. Break up long blocks of text into bulleted lists and smaller paragraphs, and incorporate headings and sub-headings. Tag your headlines appropriately, using <H1> for titles and <H2> for subtitles, to maintain structure.
When laying out your content, ensure it starts above the fold (the point on your screen where a user has to start scrolling down to see more content). If your website dedicates a lot of space above the fold to ads or just imagery, users may not scroll down to get to the good stuff.  This is a key piece to address with your digital partner during wireframing.
After all your SEO work, stay on top of your efforts by monitoring your results. Google Analytics tracks your page views for free, along with other useful SEO statistics. Be sure to monitor items like "bounce rates" and the amount of time users spend on your site(s) to measure the effectiveness of your content. High drop-off rates combined with little time spent on your page could be a sign that your content isn't relevant or engaging to your audience. Evaluate your metrics to see what's working (and what's not), then revisit your content and design strategies to make adjustments. A winning combination of quality content plus logical design is sure to get you noticed.
Not all websites are created equal.  If you are not focused on the 5 tips outlined in this article, your site is losing steam/opportunities right out the gate. Make sure you use this knowledge to collaborate with your digital partner, and hold them accountable to delivering the best site for you, your customers, and search engines like Google. Want a recap? Here is a quick checklist.
> Is your website built (or being built) on a platform that allows you to easily add new content, such as articles, photos and videos.
> What is your keyword strategy and how are you leveraging the keywords on your site, or more, digital strategy?
> What opportunities are there for outside sites to link to your site. Directories, associations, partners, social media, etc.
> Is your site responsive (mobile-friendly)?  How easy is it for spiders to crawl through the the site's coding?
> How does the site render on different screen sizes (13", 15", 22", etc)? Where is the "fold"?
> How does your site platform manage compressing images and graphics to the optimal dpi? How does it manage the formatting and structuring of headings, sub-headings and body text?